Sexy Las Vegas Girls | The Best Clubs To Find Hot Women
Those who are interested in partying in Vegas often ask us where they can find the hottest Las Vegas girls.
The answer is simple: At the best venues in Vegas.
You can check out a list of some of our partner venues further below. Just scroll until you see a numbered list.
Or you can call us today for VIP access to the top nightclubs and dayclubs in the city. We have several venue partners and are pros at helping you have an amazing time.
Ratio of Men and Women At Las Vegas Clubs
The ratio of beautiful Las Vegas girls to guys is pretty high, which is good news for straight men and for ladies who like women.
Cocktail Waitresses In Vegas
All of our partner venues have smoking hot cocktail waitresses, which may incline you to seek bottle service.
The job of a cocktail waitress is to make sure you have a great night. Them being nice to look at is the bonus.
Increase Your Chances of Meeting Women With Bottle Service
One of the top tips for increasing your chances of meeting women at nightclubs and dayclubs in Vegas is (no surprise) to reserve a VIP table.
Perks of VIP Bottle Service
VIP bottle service not only gets you your own personalized cocktail waitress, but it also gets you quick access to the venue, your own security, storage for your belongings, and more.
Naturally, you're going to attract the right kind of attention if you've got your own private table.
Plus:
You can ask the club staff to invite those who you find attractive to come and join you. It's customary to give the staff a tip when making this request.
5 Amazing Nightclubs To Meet Hot Las Vegas Girls
1. OMNIA Nightclub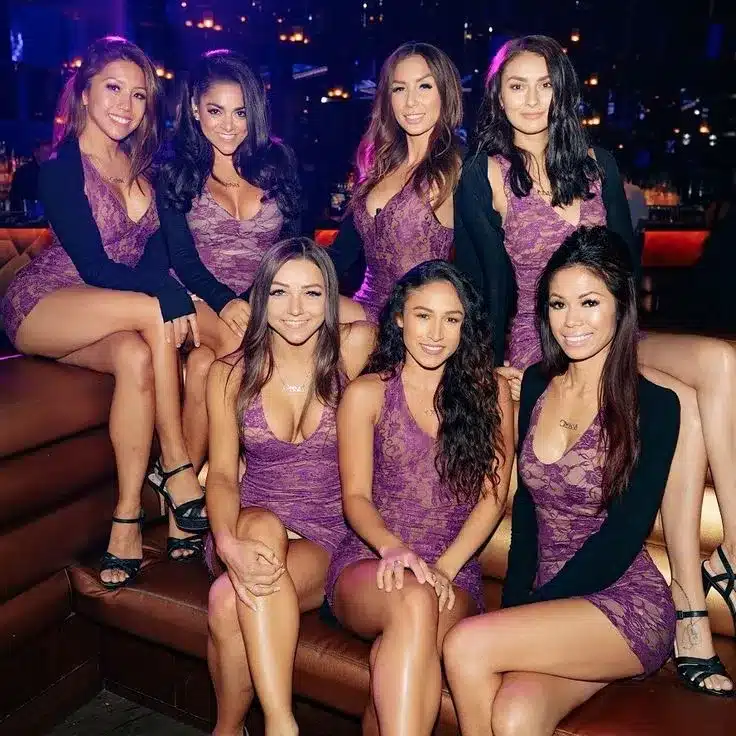 OMNIA Nightclub is one of the largest venues in Vegas, which means you won't find any shortage of women here.
For those unfamiliar with this venue, it's worth checking out. It's massive, at around 75,000 square feet, and has three giant rooms that offer world-class entertainment.
Pro tip: The Heart of Omnia's hip-hop room is a great place to meet hot Las Vegas girls. We definitely recommend checking it out!
2. XS Nightclub

As one of the top nightclubs in all of Las Vegas, you will find a plethora of beautiful Las Vegas girls here.
You'll also find plenty of hot women with sexy bikini bodies at XS NightSwim Pool Party at Night.
PS The NightSwim event does have a dress code and nudity is NOT allowed.
3. Tao Nightclub

Tao Nightclub is one of the more colorful and interesting nightclubs in Vegas and frequently draws A-list patrons, such as Jamie Foxx, Rihanna, and Usher.
The influx of popular names gives the venue an upscale feel, which is no doubt why it draws attractive people from all over the world.
4. Hakkasan Nightclub

This MGM Grand venue is immensely popular and draws people from all walks of life, making it a hub for beautiful women.
We definitely suggest checking out Hakkasan Nightclub. It has an interesting energy.
5. Encore Beach Club

Want to see sexy bikini-clad women? Look no further than Encore Beach Club.
We love this venue for multiple reasons—the menu, the music, the epic pool area, but most of all, the women.