Location: The Venetian Hotel
Nights: Thursday, Friday, and Saturday
Music: Hip hop, Top 40, and Open Format
Size: 10,000 sq-ft
The Definitive Guide to TAO Nightclub Las Vegas (2022)
TAO Nightclub is one of the top venues in Las Vegas, thanks to its intimate dance floor, three bars, classy VIP sky boxes, smoking-hot female dancers, and much more. This venue is top-notch and consistently provides 5-star nightlife entertainment, which is why it's so popular.
If you're looking for versatility, a great atmosphere, and high-energy music, then you should definitely check out TAO. Trust us. There is plenty to do!
Not only does this venue have multiple rooms, but every year, TAO Nightclub creates something new for guests to enjoy. There is a good reason why popular celebrities like Rihanna, Kim Kardashian, and Iggy Azalea have spent time here.
TAO Nightclub Vegas Location
TAO is located at 3377 S Las Vegas Blvd, Las Vegas, NV 89109 and is inside the Venetian Hotel.
Getting To TAO Nightclub
To get to TAO Nightclub, you will need to go to the second level of the Venetian Hotel and Casino. Just head into the hotel's front entrance and take the escalator. The club is very easy to find.
Online Tour of TAO Nightclub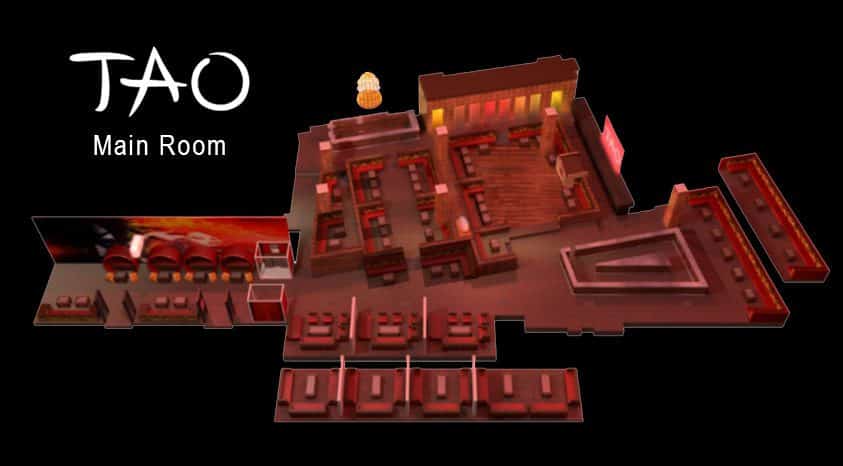 TAO Nightclub Hours of Operation
This venue is open Thursday, Friday, and Saturday from 10:30pm until 3am.
TAO Nightclub Dress Code
The dress code is upscale-casual. Men should wear dress shirts and dress shoes and avoid wearing baseball hats, tennis shoes, and open-toed shoes. Women should wear tasteful attire. Men and women should both avoid sportswear or clothing with obscene or offensive print.
The Type of Music
Hip hop, Top 40, and open format.
What Does It Cost To Get Into TAO Nightclub?
The cover charge for women is around $20, while men pay $30. To get more info about the price of bottle service at TAO Nightclub, call or text us at 702-344-0100 or visit our Table Service page by scrolling to the top of this page and clicking on the Table Service tab.
Contact A Talented Las Vegas Event Promoter
Want to get into TAO Nightclub for free, or would you like to make a bottle service reservation? If so, call or text us at 702-344-0100. We'll answer any questions you might have!