#SUPREMETAKEOVER
#SUPREMETAKEOVER
#SUPREMETAKEOVER
"COME EXPERIENCE MULTIPLE
VENUES, SKIPPING ALL LINES ON
PARTY BUSES"
Las Vegas Party Buses
Las Vegas is known for its nightlife, but it can be hard to know where to start when you're visiting for the first time.
If you want to experience the best of what Las Vegas has to offer, you need to party with the right people. The problem is that most of the nightlife in this city is geared towards tourists and can be expensive and overwhelming.
Vegas Good Life takes all the guesswork out of your night out. We offer party buses and club crawls that will take you to the best clubs in town and save you money in the process. Our experienced tour guides will make sure that you have a night you'll never forget.
If you're looking for the ultimate party bus experience in Las Vegas, look no further than Vegas Good Life. We offer a wide range of party buses to fit every budget, and our VIP-style service means you'll never have to wait in line or pay cover charges again.
Whether you're looking for a wild night out on the town or a more intimate evening with friends, we've got you covered.
Party in style on a VIP Party Bus Tour of Las Vegas!
You and your group will be picked up in a luxury party bus and taken to some of the best pool clubs, nightclubs, and strip clubs in Sin City.
With a professional tour guide in the driver's seat, you can sit back and enjoy the ride as you get exclusive access to VIP areas and money-saving discounts on drinks.
Whether you're looking for a wild night out or a more relaxed evening, this tour has something for everyone. So come Party with us on one of our VIP party buses tour of Las Vegas!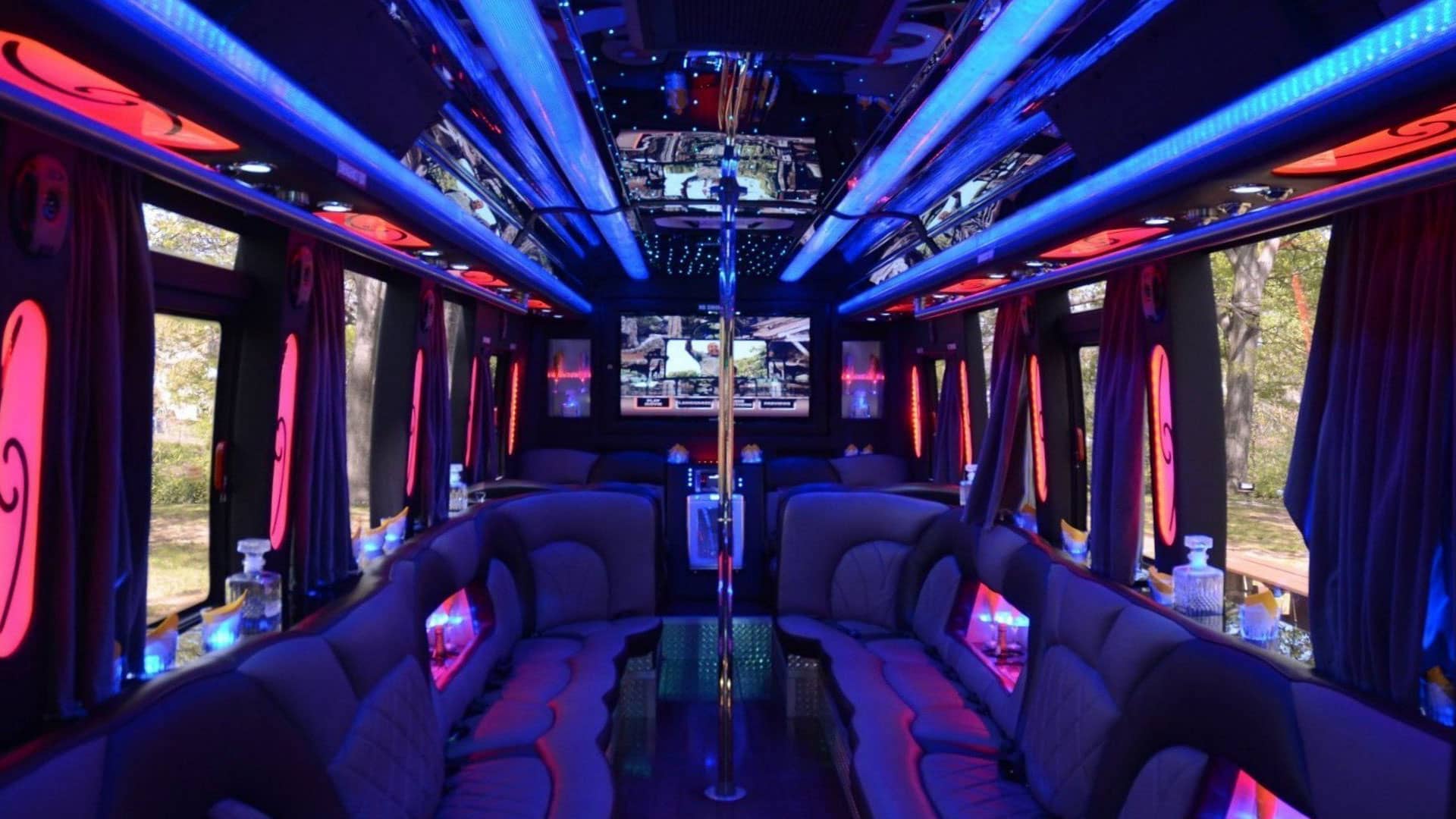 What are Party Buses?
Party buses have become increasingly popular in recent years, especially in Las Vegas. Party buses are essentially large vehicles that have been outfitted for partying. They typically include features such as a dance floor, disco lights, and a sound system.
Party buses can be rented for a variety of occasions, including bachelor or bachelorette parties, birthdays, and corporate events. Many party bus companies also offer package deals that include transportation to and from nightclubs or other venues.
Party buses provide a unique and fun way to celebrate any special occasion.
Dayclub Party Buses
Party in style with our VIP pool club tour! You'll be chauffeured from club to club on a party bus, making stops at some of the hottest pool clubs in the city. With VIP access, you'll be able to bypass the lines and enjoy exclusive access to the best parties in town. There's no need to worry about cover charges either – they're all included in the price of the tour. 
Our experienced guides will show you around and help you make the most of your time at each club. Whether you're looking to sunbathe by the pool or dance the day away, our tour has something for everyone.

Party like a rockstar and experience Las Vegas like never before!
Nightclub Party Buses
Party bus tours are the best way to see Las Vegas's top nightclubs. Our luxurious party buses will take you to some of the best clubs in town, and you'll enjoy the music and the free booze while you party with our friends.
Get into our luxurious party buses equipped with state-of-the-art sound systems, plasma TVs, and bars stocked with top-shelf liquor.
We provide VIP access to some of the best nightclubs in Las Vegas, and our Party hosts will make sure you have a great time. Party bus guests enjoy instant club access privileges and free cover charges at all of our partner clubs. So whether you're looking for a wild night of clubbing or a more intimate evening of cocktails and conversation, we've got you covered.
Party bus tours are the best way to experience Las Vegas nightlife, so book your tour today!
Stripclub Party Buses
Get around the city and visit some of the sought-after, VIP access-only strip clubs. Our party buses will pick you up from your hotel and take you to VIP access-only strip clubs with no lines and no cover charges.
Imagine, you can focus on enjoying your evening. Whether you're looking for a wild night out or a more intimate experience, party buses provide the perfect solution.
Private Party Bus Rental
Do you need party buses for your wedding, birthdays, or corporate events? Our party buses are perfect for these occasions.
Imagine how incredible it would feel to experience everything from stunning bars with exclusively priced drinks, to all-you-can-eat food stations serving up delectable dishes made by world-class chefs. That's why we offer private party bus services which come at such low costs but allow our VIP clients access to exclusive venues where they will enjoy.
Bachelorette Party Bus
Las Vegas Party Bus Limo offers the perfect Bachelorette party experience. Our luxury limousines and party buses come complete with custom plush seating, flat-screen TVs for your entertainment needs (including an HD surround sound system), and programmable neon fiber optic lighting that will light up any night into something amazing!
Bachelor Party Buses
The ultimate bachelor party experience in Las Vegas awaits you. Hit two of the best Sin City party hotspots with an expert guide and no cover charges! You'll enjoy two drinks from our lavish open bar bus, and hit off-the-beaten-path locations that everyone will never find on their own – all while being chauffeured around town.
You deserve a nightlife experience like no other. The bachelor party bus tour is the ultimate bro-down, with luxurious rides to two of Sin City's hottest clubs eliminated from your itinerary!
Las Vegas Party Buses – FAQs
What is the Dress Code?
You'll want to make sure you're looking your best. The recommended outfit includes leather shoes, formal wear (dresses are perfect), and a jacket if needed!
Remember NOT to wear t-shirts, sneakers, jerseys, athletic wear ripped jeans, and cargo shorts as these are all prohibited.
What Time Do the Party Buses Tours Start?
For nightclub tours, we meet up at the first venue at 10 pm. And for dayclub tours, we meet at the first venue at 11:30 am.
How Long Do Las Vegas Party Bus Tours Last?
We stay around 1.5 hrs in each of the first 2 venues, and you can stay as long as you want to in the last nightclub of the night. The Welcome to Las Vegas sign picture and liquor store stop takes about 45 minutes. So all together with its about 5 hours or more.
Can We Join the Group in the Middle of the Tour?
If you happen to miss your tour, you can still catch up by joining us at the next stop. Just send us a message at 702-344-0100 so we know you are coming.
How Many People Can Get on the Party Bus?
The party buses can fit up to 42 people. However, we don't usually use it at its full capacity to make sure there's still room for everyone to party.
Is Alcohol Provided?
Yes. Booze is free and inclusive of the ticket.
How Do I Cancel My Reservation?
If you need to cancel your reservation, please call us right away and we'll do it hassle-free. However, make sure to do it 72 hours before your reservation so we'll have no issues if in case you need a refund.
How Do We Know When It's Time for the Next Venue?
The party bus host will let you know when it's already time to move to the next venue. We have experienced party bus hosts who will surely guide you all throughout the journey.
How Do We Call Your Customer Service?
If you have any questions, don't hesitate to call us are 702-344-0100.