Location: Caesars Palace
Nights: Tuesday, Thursday, Friday, Saturday, Sunday
Music: EDM, Top 40, Open Format
Size: 75,000 sq-ft
The Definitive Guide to OMNIA Nightclub (2022)
OMNIA Nightclub is a three-level, 75,000 square-foot venue that was conceived as a way to integrate elements of classic design with modern technology and redefine what it means to have an interactive club experience.
The heart of OMNIA is the main room, where world-renowned DJs spin tunes from a custom-designed DJ booth that overlooks the dance floor.
LED screens flank the booth and display images that complement the music and create an immersive experience for club-goers.
OMNIA also features a state-of-the-art sound system and a versatile lighting system that can create a wide range of moods and atmospheres.
OMNIA Nightclub features three levels of unforgettable fun. The main level is the heart of OMNIA, and it features a dance floor that is surrounded by world-renowned DJs. The second level is the VIP section, and it features private tables and bottle service. The third level is the Skybox, and it offers an incredible view of the action below.
With its innovative design and cutting-edge technology, OMNIA has quickly established itself as one of the hottest nightclubs in Las Vegas.
OMNIA Nightclub Vegas Location
This venue is located at 3570 S Las Vegas Blvd, Las Vegas, NV 89109. It's found inside the majestic Caesars Palace.
Getting To OMNIA Nightclub
The first thing you need to know is that OMNIA has two different entrances – one on the casino floor and one on the Strip. If you're coming from the main entrance of Caesars Palace, head directly to the right, and you'll see the entrance to OMNIA near the sports book. If you're coming from self-parking, head to the right and follow the wall past the theater, and you'll see OMNIA's entrance.
Online Tour of OMNIA Nightclub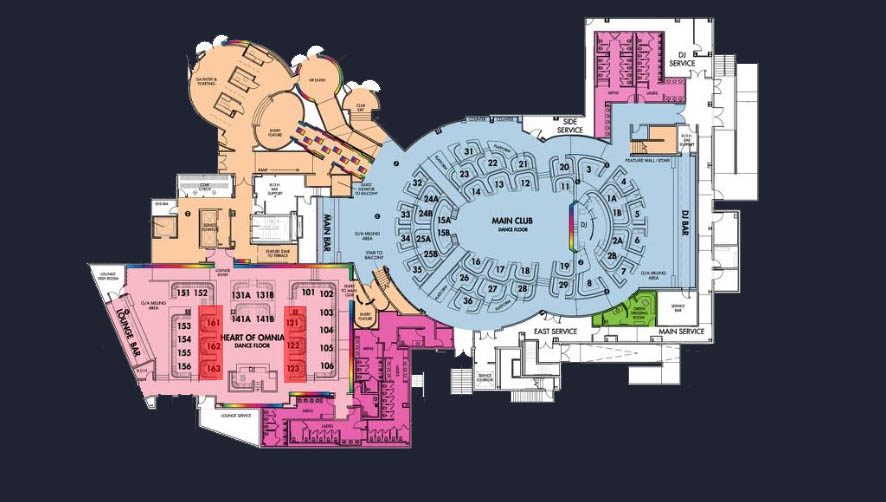 OMNIA Nightclub's Hours of Operation
OMNIA Nightclub is open on Thursday, Friday, Saturday, and Sunday from 10:30 pm until 4 am.
OMNIA Nightclub Dress Code
OMNIA Nightclub is the hottest club in town and offers a chic, upscale experience unlike any other. Their dress code reflects this atmosphere – so they ask that guests wear fashionable, upscale attire. For men, this means collared shirts are required.
The Type of Music
OMNIA Nightclub is proud to offer a variety of musical genres from today's most influential electronic and Top 40 artists. Their state-of-the-art sound system ensures that every guest can enjoy the music to the fullest. OMNIA also have a team of skilled DJs who know how to keep the party going all night long.
What Does It Cost To Get Into OMNIA Nightclub?
General admission for males is $50, while females can expect to pay $30. If you're looking for a VIP experience, expect to spend anywhere from $125 to $150. And if you want bottle service, be prepared to shell out at least $3,000.
Despite the high cost of entry, OMNIA Nightclub is always packed with partygoers eager to experience its lavish decor, world-class DJs, and stunning views of the Las Vegas strip. So if you're looking to splash out on a night to remember, OMNIA Nightclub is definitely the place to be.
Work With An Experienced Las Vegas Event Promoter
OMNIA Nightclub is one of the hottest nightclubs in Las Vegas, and if you're looking to get in, you need to work with an experienced event promoter. We have the connections and know-how to get you into OMNIA and make sure you have a great time. We can also help with bottle service reservations, so you can enjoy the VIP treatment.
If you have any questions, just give us a call at 702-344-0100 – we're here to help!
Photos of OMNIA Nightclub
Videos of OMNIA Nightclub