Location: Encore Hotel
Nights: Friday, Saturday, and Sunday
Music: EDM, Top 40, Open Format
Size: 40,000 sq-ft
The Definitive Guide To XS Nightclub (2022)
XS Nightclub is not only one of the best nightclubs in Las Vegas, but it also consistently ranks as one of the top nightclubs in the entire United States.
This venue has everything you'd expect from a world-class establishment, including a large dance floor, multiple bars (seven in total), over 200 VIP tables, 27 private cabanas, a beautiful pool, DJ booth, over a dozen nearby restaurants, top musical talent, and some of the best events in town.
XS Nightclub consistently provides 5-star entertainment experiences, which is why we encourage you to check it out. The moment you walk through the golden entryway of this 40,000-square-foot venue, you'll feel the positive vibes and certainly appreciate all of the efforts that have gone into making it.
This venue is divided into an indoor and an outdoor area. Both areas have separate bars and seating. The lavish interior is 13,000 square feet and is a great place to socialize. The outdoor area is 27,000 square feet and is where XS Nightclub's epic European pool parties happen.
If you love to swim, XS Nightclub's "Night Swim" on Sundays is a can't-miss experience. Call us at 702-344-0100 for more details. We'll help you sign up!
Would you still like to learn more about this venue? Check out our Guest List, Table Service, and Online Tour pages. Also, check out our EBC At Night Calendar to find hot upcoming events!
Where Is XS Nightclub?
XS Nightclub's address is 3131 S Las Vegas Blvd, Las Vegas, NV 89109. It's located inside the Encore At Wynn Hotel.
How Do You Get To XS?
The entrance to XS Nightclub is near the Encore Esplanade and Wynn Theater.
If you park in the Wynn Self Park Garage, there are three exits that you can take. One goes to the Wynn Casino, another goes to the Encore Casino, and the last one takes you to the Encore Esplanade. You'll want to take the exit to the esplanade.
If you park in the Encore Self Park Garage, you'll need to make your way through the Encore Casino to the Encore Esplanade.
If you come in via the South Gate off of Sands Avenue, you'll need to pass through the Wynn Casino to get to the esplanade.
Once you've arrived at the esplanade, you can either follow the signs to XS Nightclub or ask one of the resort staff to guide you there. They'll be happy to point you in the right direction.
Virtual Tour of XS Nightclub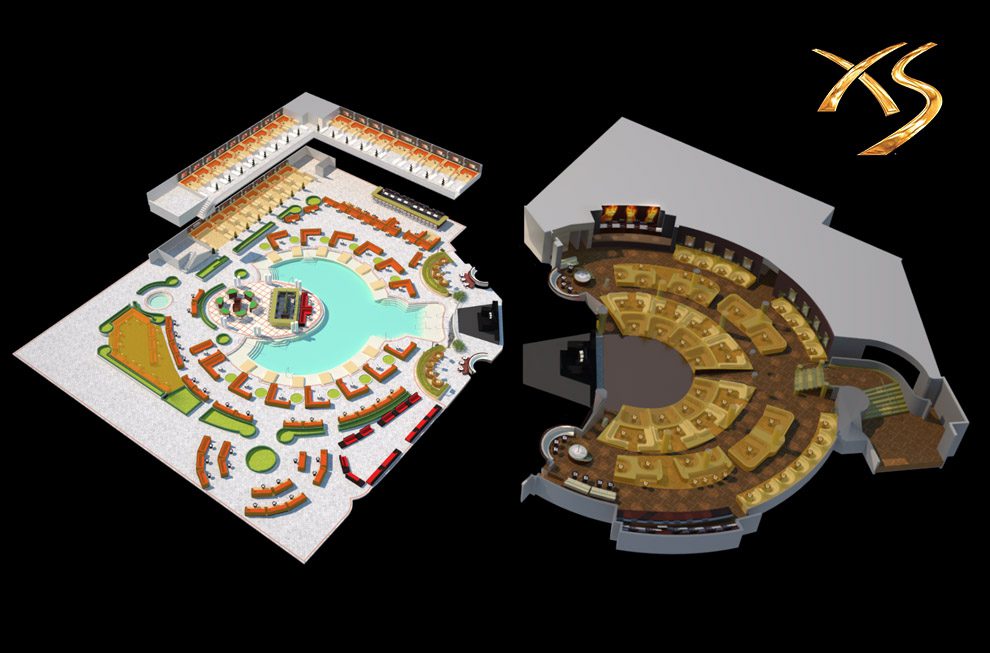 XS Nightclub Hours
The club is open Friday, Saturday, and Sunday from 10:30am until 4am.
What Does It Cost To Get Into XS Nightclub?
This venue's cover charge ranges from $20 to $80 for females and $25 to $100 for males.
To learn more about how much Table Service costs, give us a call at 702-344-0100 or go to our Table Service page by scrolling up and clicking on the Table Service navigation tab.
XS Nightclub Dress Code
The dress code at XS Nightclub is business casual. You're best off wearing a dress shirt, high-quality jeans, and dress shoes. You'll want to avoid wearing torn, cut, or baggy clothing, as well as athletic wear and apparel with rivets, studs, and hooks.
If you're coming for XS Nightswim, you'll want to wear a family-appropriate bathing suit. Please do not wear undergarments to swim in. Please also avoid wearing see-through, offensive, or overly-revealing swimwear. Topless sunbathing is not permitted. You can wear a business casual outfit to attend the nightswim event, but you are not allowed to swim fully clothed.
What Type of Music Is At XS Nightclub?
The music is Top 40, EDM, and open format.
Work With A Top Event Promoter In Las Vegas
If you need our assistance getting into XS Nightclub or reserving a VIP table, call or text us today at 702-344-0100. We'd love to hear from you!