Location: Encore Hotel
Nights: Wednesday, Friday, Saturday
Music: EDM, Top 40, Open Format
Size: 60,000 sq-ft
The Definitive Guide to EBC At Night (2022)
Encore Beach Club at Night has established itself as one of the most popular nightlife destinations in Las Vegas for pool parties, and there is a very good reason why. This place has it all—multiple bars, a DJ booth, more than two dozen VIP cabanas, a gaming area, floating blackjack tables, poolside VIP tables, and much more.
Encore Beach Club at Night is laid out in two different sections, indoor and outdoor. This venue's layout makes it a great place for different types of people. Whether you want to party outside or escape to one of the indoor VIP booths, there is always something here for you to do.
The indoor portion of the club is about 5,000 square feet, so it's relatively small. The outdoor area is much larger, around 55,000 square feet. As you can imagine, the bulk of what the club has to offer is outside, including all of the ultra-comfy daybeds.
The indoor area, however, is excellent, so we definitely recommend checking it out. It features a power-packed DJ booth, fancy VIP tables, and an exotic long-style bar. Above the bar hangs a giant golden serpent, which is what you'd expect to find in a place so quintessentially Vegas.
To learn more about this incredible venue, check out our Online Tour, Guest List, and Table Service pages. We also invite you to look at the EBC At Night Calendar to see if there is an event that you'd like to attend.
EBC At Night Vegas Location
This venue is located at 3131 S Las Vegas Blvd, Las Vegas, NV 89109. It's inside the Wynn Encore.
Getting To EBC At Night
To get to EBC At Night, you'll need to go through the casino. There are signs you can follow to the casino from the front of the hotel. If you park in the Wynn parking garage, you'll cross a bridge that will take you to the venue.
Online Tour of EBC At Night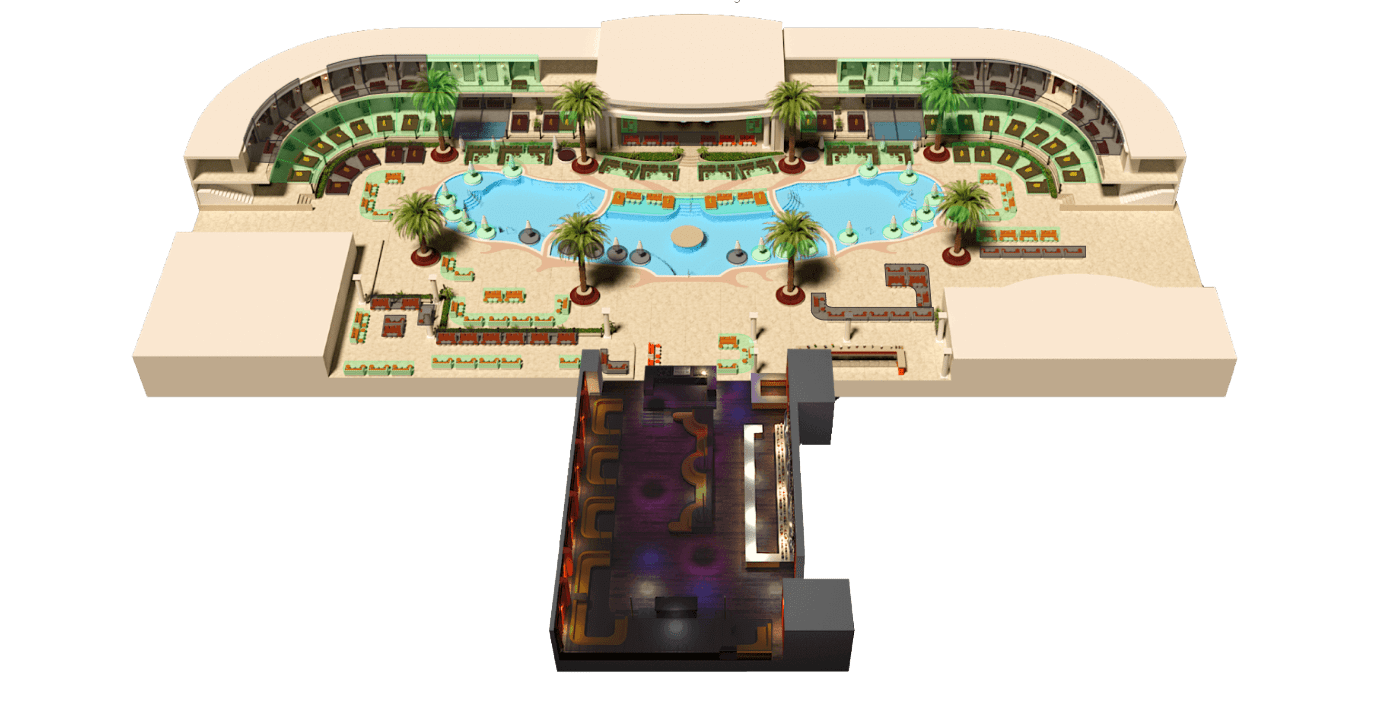 EBC At Night's Hours of Operation
This venue is open Wednesday, Friday, and Saturday from 10:30pm until 4am.
Encore Beach Club At Night Dress Code
The dress code is casual. Regular pool attire or business casual attire is perfectly fine. You do, however, want to avoid wearing offensive or obscene clothing and gang-related paraphernalia.
The Type of Music
Top 40, EDM, and open format are what you'll hear at this venue.
What Does It Cost To Get Into EBC At Night?
Getting into EBC At Night runs anywhere from $20 to $50 for females and $30 to $75 for males. For more information about the price of Table Service, call us at 702-344-0100 or check out our Table Service page by scrolling up and clicking on the Table Service tab.
Work With An Experienced Las Vegas Event Promoter
If you need help getting into EBC At Night or making a bottle service reservation, or if you have any questions, call us at 702-344-0100. That's what we're here for!
Photos of Encore Beach Club At Night
Videos of Encore Beach Club At Night