When you think of Las Vegas, chances are you think all about the nightlife. Clubs, restaurants, shows and attractions abound, and many are open late into the night.
That doesn't mean you can't have fun during the day, too, though. Vegas is home to a wide variety of venues that host fun, sophisticated pool parties.
If you're traveling to the city in 2023, you won't want to miss checking out a dayclub pool party.
Drais Beach Club
If you want some of the best daytime views of the city, spend the day at Drais Beach Club. Considered one of the most luxurious and sophisticated dayclubs in the city, Drais offers a rooftop pool and an open format for its music.
If you love both EDM music and hip-hop, you'll love the atmosphere at this venue. Multiple pools, a variety of bars and some of the best performers in the world are joined by impressive and friendly staff at Drais.
Check out one of its events on Friday, Saturday or Sunday when you're in town.

Encore Beach Club
Palm trees, water parks and some of the world's best DJs are abundant at Encore Beach Club, a luxury venue open every Friday, Saturday and Sunday. As soon as you step into the venue, the beat of the music starts to pulsate through your body.
After hours of swimming, dancing and mingling, you can visit one of the club's multiple bars, then grab a seat on a water couch, cabana or daybed to catch your breath and people watch. VIP bungalows with live performances are also available.
Be sure to check out the shaded gaming area when you need a break from the sun.
Marquee Dayclub
Situated in the center of the Strip, Marquee Dayclub is a part of the Cosmopolitan Hotel.
Open Friday, Saturday and Sunday, the large space is the perfect size if you love a crowd of like-minded people but still want plenty of room to dance, swim, drink and mingle.
Popular DJs show off their skills during each pool season, and large bars are available on either side of the venue. Don't forget to check out some of the club's talented go-go dancers as well.

Wet Republic
Visit the MGM Grand Hotel and you'll find Wet Republic. A staple among the dayclub pool party crowd, this is the place to go for those who love giant crowds and big personalities.
People come to hear some of the most popular musicians and DJs from around the world, and they stay for the gorgeous waitresses and high-end amenities. Multiple pools, massive LED screens and plenty of bars mean hours of fun.
A shaded area allows you to escape the sun when you need to. In addition to being open on Friday, Saturday and Sunday, you can also find pool parties at this venue on Monday and Thursday.
Whether you want to dance the day away, splash around with your best friends or simply sip your favorite cocktail while getting to know new people, you can't beat visiting a dayclub pool party in Las Vegas.
Add your name to the guest list the next time you're in town.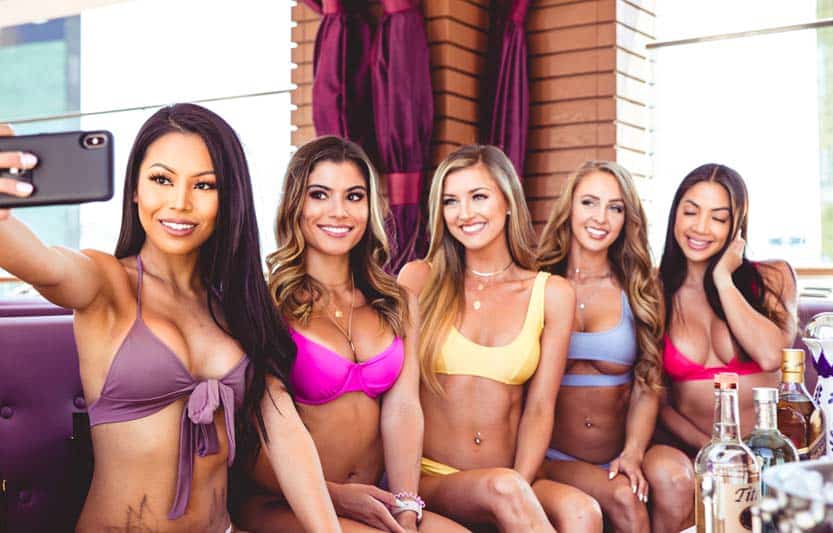 Learn more: 5 Of The Best Dayclub Pool Parties In Las Vegas