Sapphire Las Vegas Gentlemen's Club
Location: 3025 S Sammy Davis Jr Dr, Las Vegas, NV 89109
Nights: Mon-Thurs: 8pm-4am | Fri-Sat: 2pm – 6am | Sun: 2pm-6am
Music: Open Format
Sq Ft: 71,000
The Ultimate Guide to Sapphire Gentlemen's Club Las Vegas
Sapphire Gentlemen's Club (SGC) is the largest men's club in the world, with over 70,000 square feet of space dedicated to topless entertainment. The club features 300+ artists a night and one-of-a-kind events with Sapphire Gems. It also offers premium alcohol and signature cigars.
Sapphire opened in the early 2000s. Since then, it has become one of the most well-known gentlemen's clubs in Las Vegas. The atmosphere in the club is that of a VIP lounge: It has the latest technology, luxurious modern surroundings, and helpful professional staff.
Sapphire Gentlemen's Club continually moves the sector forward with high standards of service and exclusive special events. Let's also not forget about Sapphire Pool & Dayclub, which is the first topless pool in a strip club in Las Vegas.
There's something for everyone at SGC, and that's the reason so many customers keep coming back and why SGC is a favorite destination for artists.
The club attracts the most beautiful, fun, and sexy topless dancers from all around the world! With hundreds of gorgeous entertainers working at the club, there's a girl for everyone at the world-famous SGC in Las Vegas.
Sapphire Gentlemen's ClubLas Vegas Gallery
Sapphire Gentlemen's Club was recently named the "Best Gentlemen's Club" by Las Vegas Review magazine. This is the 8th year in a row that SGC has won this title.
In addition, SGC received the "Best Bachelor Party" award, the Men of Sapphire show was ranked "Best Bachelorette Party," and CFV Sapphire Comedy Hour earned "Best Comedy." Lastly, the Pool & Day Club was voted Best Day Club in Las Vegas for the 3rd year in a row!
SGC offers four main bars: the Martini Bar (the centerpiece of which is a large martini glass), Peter's Bar, the Off-Broadway Show Room, and the Skybox Bar. Every bar offers a wide selection of the best beers, liquors, premium wines, and champagnes.
There are 300+ ladies on the floor at any given time, so whatever your preference for women is, you'll likely find it at SGC. And let's not leave out the gorgeous ladies in blue and white – the cocktail servers, bartenders, and waitresses. You'll find them to be just as beautiful as the performers.
Sapphire Las Vegas Gentlemen's Club Bottle Service
What are the rates for bottle service at Sapphire Gentlemen's Club?
$350 or more.
Email [email protected] for more information on bottle service packages.
Which is the best VIP table location?
The best table arrangements are the large booths along the walls in the main lounge. For privacy, choose the Skybox or the VIP room. But if privacy is not a big priority, the Rockstar table offers an incredible experience.
Prices
Standard card price: $30
Drink prices
Local beer: $8-$12
Foreign beer: $12-$20
Well drinks: $10-$15
Cocktails (premium): $14-$20
Bottles of alcohol start from $425
Lap Dances
Main room: $20/song
VIP Lounge: from $200 for 30 min. + two VIP drinks ($20/drink)
Skyboxes: from $400/hour + $500 minimum for bar
Online Tour of Sapphire Gentlemen's Club
Sapphire Las Vegas Gentlemen's Club Location
This venue is located at 3025 S Sammy Davis Jr Dr, Las Vegas, NV 89109
Getting To Sapphire Las Vegas
Need a ride? Call or text us at 702-291-8080. We'll schedule a pick up at your hotel.
Sapphire Las Vegas Hours of Operation
Sunday 2 PM–8 AM
Monday 6 PM–6 AM
Tuesday 6 PM–6 AM
Wednesday 6 PM–6 AM
Thursday 6 PM–6 AM
Friday 2 PM–8 AM
Saturday 2 PM–8 AM
Sapphire Las Vegas Tables and Packages
Check out what Sapphire has to offer!
Main Hall
A huge hall with SGC's signature LED-lit wall, three stages, two bars, 20+ booths, and plenty of seating and entertainment. Bachelor parties and small groups alike can enjoy a VIP table, booth, or stage seating in the main hall.
Rock Star Lounge
Located in the center of the main lounge, the Rock Star Lounge is a premium VIP area where you can watch dancers on the main stage. The Rock Star Lounge is perfect for a bachelor party or a large group of Vegas partygoers. It is an excellent bottle service location.
Showroom
The Showroom is a special space with a large stage, a bar, and the ability to accommodate over 400 guests. The long-running and widely popular Men of Sapphire Revue show is held here.
The Showroom also hosts several hundred ladies every weekend to celebrate bachelorette parties, birthday parties, and more. With special events, such as the legendary Sapphire Super Sunday (Super Bowl party), adult artist shows, comedy shows, and more, the SGC showroom is one of the most versatile and exciting private event spaces in Las Vegas.
Sporting Events
Sapphire Gentlemen's Club uses the Showroom for major sporting events (Super Bowl, UFC weekend, fight weekend, etc.).
Skyboxes
Experience the comfort of a secure private skybox on the club's 2nd floor while enjoying a view of the club's main floor. There are 10 VIP Skyboxes at SGC, from a cozy room for two to a lavish party room that accommodates up to 10 guests.
Karaoke Room
The Karaoke Room is an amazing private room. It is located in the VIP Room and can accommodate up to 24 guests. It features a full bar, 90-inch screen, sound system, private restroom, and chic furniture. The room is widely known for its fantasy soccer draft parties featuring topless draft board hostesses!
Sapphire Pool
At the Pool and Dayclub, you can experience some of Las Vegas's best entertainers.
Bachelor Party
If you're looking for a bachelor party that will keep you entertained and energized, look no further than SG Club. Our packages include everything you need to have a great time!
Do you want your bachelor party to be one of the most memorable events of your life? Tell us what kind of party you want and our VIP hosts will take care of all the details!
Packages for Couples
SGC is great for couples, with reasonable prices and plenty of comfortable seating. The staff and dancers are also pros at making sure you and your partner have a good time. All paired packages provide free transportation to Sapphire.
Fantasy Draft Season
SGC is considered one of the better places to host draft parties, and some consider the Karaoke Room to be the best private draft room in the city. Sapphire offers guests a complimentary limousine service.
Super Sunday at SGC
The annual Super Sunday party at SGC is what some people come to Vegas specifically for. Super Sunday at SGC offers plenty of seating, TV screens, bars and cocktails, buffets, prizes, and much more.
Comedy Hour at SGC
Comedy routines take place on Saturdays at 8 pm at SGC.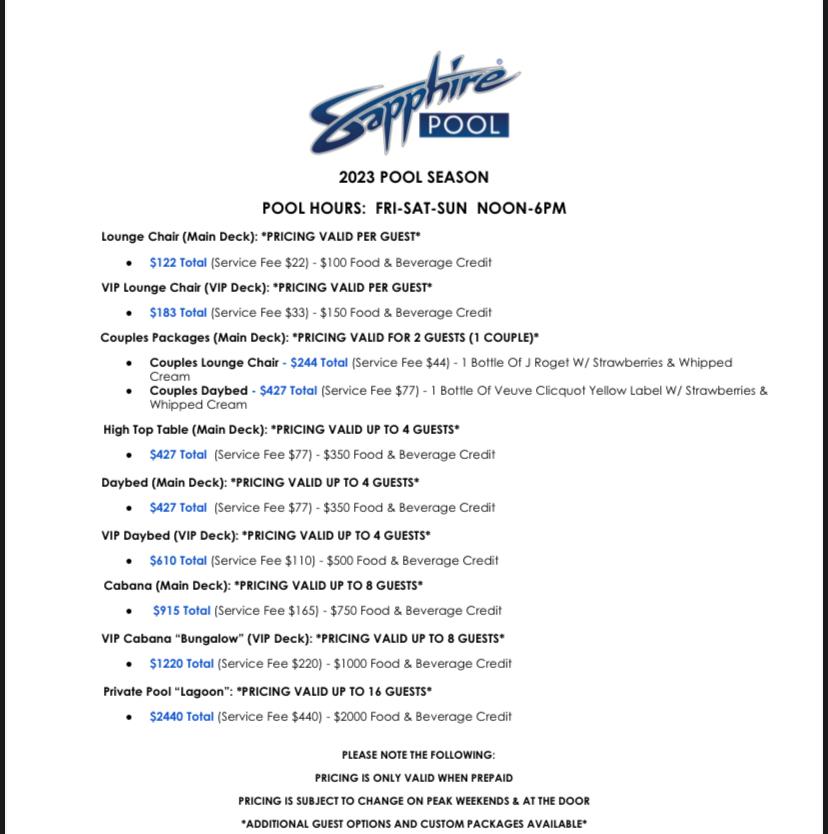 Sapphire Las Vegas Gentlemen's Club FAQs
Is there Food at Sapphire Gentlemen's Club?
Yes.
El Dorado Cantina restaurant is conveniently located in the same building as SGC. There are plenty of package deals and specials available if you want to combine dinner with a night at the strip club. Typically, SGC has special offers every night of the week.
If you don't want to eat at El Dorado Cantina, the club itself has terrific pizza and plenty of delicious bar treats to satisfy your hunger.
What is the etiquette at Sapphire Gentlemen's Club?
Don't ask for free lap dances. This is Las Vegas, and the girls work to get paid.
Visitors are not permitted to touch the dancers. Please be respectful of personal space.
Verify the price of your lap dance with your performer BEFORE the lap dance starts.  The last thing you want is to get into an argument with one of the performers over prices and get kicked out.
Leave a tip. All of the girls are independent contractors, and when you agree on a performance, a tip on top of that deal is usually expected.
One last rule: avoid getting too drunk. Yes, we get it. This is a strip club, and you want to have a good time. But don't get so drunk that you can't think or function properly. Use common sense.
How do I get to Sapphire Gentlemen's Club?
SGC arranges free limousine service for groups from hotels on the Las Vegas Strip. Inquire with us for more details.
When is the best time to visit SGC?
The best nights are Friday and Saturday. The best times depend on your preference.
Is there a dress code at Sapphire Gentlemen's Club?
There is no special dress code. Any clothing is fine except for sweatpants, t-shirts, and open-toed shoes.
Sapphire Gentlemen's Club Featured Video
Work With An Experienced Las Vegas Event Promoter
If you need help getting into Sapphire Las Vegas or making a bottle service reservation, or if you have any questions, call us at 702-291-8080. That's what we're here for!