Location: The Cosmopolitan of Las Vegas
Nights: Wednesday, Friday, Saturday, and Sunday
Music: Hip hop and EDM
Size: 40,000 sq-ft nightclub, 60,000 sq-ft total
The Definitive Guide To Marquee Nightclub (2022)
Located inside The Cosmopolitan, this venue packs a punch in the best way possible. Its three high-energy rooms, more than 80 excellent table locations, and talented staff offer an amazing environment for guests who want to hang out and enjoy a great selection of music.
Marquee Nightclub is all about the beat, so if you're ready to get your groove on, then this is the place to be. There is a good chance that you'll find a packed house when you visit, as this is a popular venue.
Marquee Nightclub is 40,000 square feet, although when you add in the dayclub, the venue as a whole is 60,000 square feet. The three rooms within Marquee Nightclub are The Main Room, The Boom Box, and The Library–plus there is an additional Salon Bar area.
The club's relaxed atmosphere makes it the perfect place to have a bachelor or bachelorette party, a birthday party, or even a corporate event.
Marquee Nightclub Location
The club is located at 3708 Las Vegas Blvd S, Las Vegas, NV 89109 and is inside the Cosmopolitan Hotel.
Getting To Marquee Nightclub
You can find the club on the second floor of the Cosmopolitan. To get to it, you'll need to go to the Chandelier bar (just ask the staff at the hotel if you need directions. The bar is really popular, so it's easy to find). Once there, you'll then take the elevator to the second floor. The club is can't-miss from that point on.
Another way to get to the second floor is by taking an escalator from the casino. The escalator is located somewhat near the high limit area.
Online Tour of Marquee Nightclub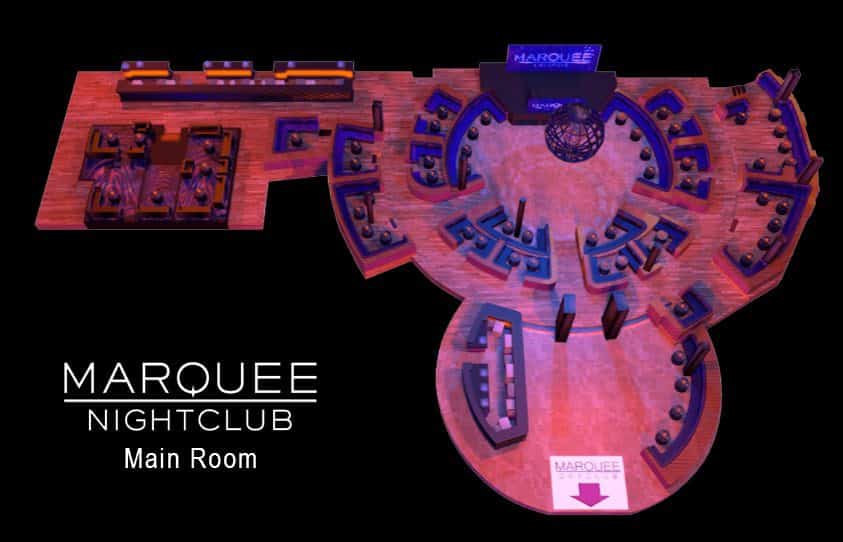 Marquee Nightclub Hours of Operation
This venue is open Wed, Fri, Saturday, and Sunday from 10:30PM to 4AM.
Marquee Nightclub Dress Code
Marquee has an upscale casual dress code. While the club is fairly flexible with how it enforces its dress code, men preferably should wear dress shirts, nice jeans or pants, and dress shoes. Women should wear something tasteful and trendy.
Please avoid wearing sportswear or clothing with obscene or offensive print.
The Type of Music At Marquee
Hip hop and EDM.
What Does It Cost To Get Into Marquee Nightclub?
The cover charge for women ranges anywhere from $20 to $50, while men can expect to pay $25 to $80. For more information about the price of VIP table service, call us today at 702-344-0100.
Coordinate With An Experienced Event Promoter In Las Vegas
If you need our help getting into Marquee Nightclub, reserving a VIP table, setting up a bus tour, or scheduling your visit to the venue, call or text us at 702-344-0100!
Photos of Marquee Nightclub
Videos of Marquee Nightclub