Location: MGM Grand Hotel & Casino
Opens: Monday, Thursday, Friday, Saturday, Sunday
Music: EDM
Size: 54,500 sq-ft
The Definitive Guide to Wet Republic Ultra Pool (2023)
Wet Republic at MGM Grand Hotel & Casino is Las Vegas' premier daylife destination.
Wet Republic features two large pools, intimate dipping pools, and a multitude of cabanas and daybeds.
With its incomparable service, top-notch DJs, and stunning setting, Wet Republic is the ultimate place to soak up the sun and party the day away.
State-of-the-Art Audio-Visual Technology, 4,000-square-foot LED display, and the most sought-after DJ's in the industry. These are just a few of the things that you can expect when you come to Wet Republic at MGM Grand Hotel & Casino.
This year, Wet Republic is proud to announce that they will be featuring the L-Acoustics Kara and ARCS II speakers. This is the same sound technology that is used by Tao Group Hospitality's Omnia Nightclub and the popular music festivals Coachella and Tomorrowland. With these speakers, guests can enjoy the best possible sound experience. Whether you are standing in front of the main stage or dancing in one of our cabanas, you will be able to hear and feel the music like never before.
Also, Wet Republic offers its guests VIP hosts, VIP Cabanas, and Daybeds to provide the ultimate daytime treatment. VIP hosts are there to take care of all your needs and make sure you have a VIP experience.
VIP cabanas and daybeds are the perfect way to relax and enjoy the sun. With their VIP service, you'll have everything you need to make the most of your day. Whether you're looking to relax or party, Wet Republic is the perfect place for you.
Wet Republic Ultra Pool Location
This venue is located at 3799 S Las Vegas Blvd, Las Vegas, NV. It's inside the massive MGM Grand Hotel and Casino.
Getting To Wet Republic Ultra Pool
Start at the front desk of the MGM Grand and walk straight through the casino. Bear right after The Lobby Bar and continue walking straight toward the KA Theatre. Take a right when you reach The District, and walk through it until you reach International Smoke. Keep walking until you see the escalators leading down to the pool.
Online Tour of Wet Republic Ultra Pool
Wet Republic Ultra Pool Layout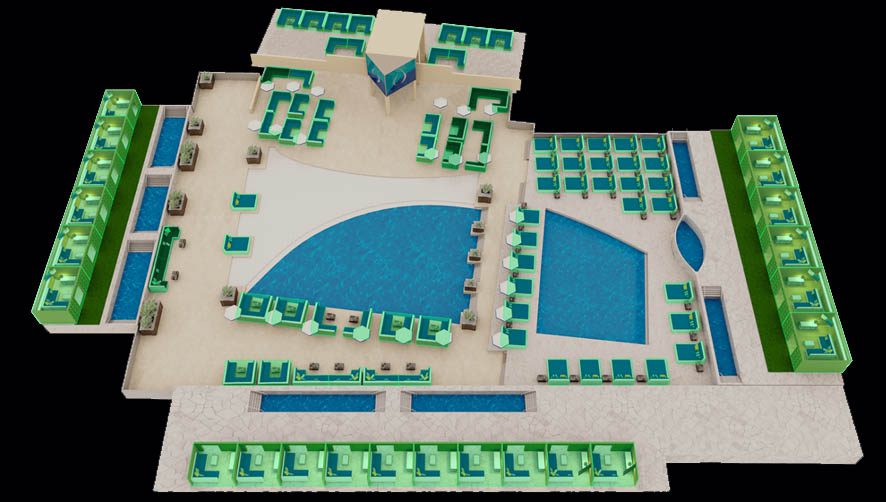 Wet Republic Ultra Pool's Hours of Operation
This venue is open Monday, Thursday, Friday, Saturday, and Sunday from 11 am until 5 pm.
Wet Republic Ultra Pool Dress Code
In order to ensure that all guests are able to enjoy the venue in a comfortable and safe environment, Wet Republic requires that all guests adhere to the following clothing guidelines: swimwear must be worn at all times; no athletic apparel, jeans, cargo, ripped clothing, sweats, baggy swimwear, excessive chains/jewelry, dress shoes, boots, or socks worn with sandals; no images of or references to drugs or drug use on any clothing.
The Type of Music
Wet Republic is the place to be if you're a fan of EDM. With world-famous DJs spinning the latest hits, an incredible sound system, and a party atmosphere that can't be beaten, Wet Republic is the ultimate destination for any music lover.
What Does It Cost To Get Into Wet Republic Ultra Pool?
Cover charge at Wet Republic starts at $30 for girls and $50 for guys. Holiday weekends and special guest performers will have higher pricing. Lounge Tables start at $4,500, while Bungalows are available for $12,500. 
Work With An Experienced Las Vegas Event Promoter
If you're looking to make a splash at Wet Republic Ultra Pool, there's no better way to do it than with the help of an experienced Las Vegas event promoter. We know all the ins and outs of the club, so we can help you get the VIP treatment you deserve.
Whether you're looking to reserve the best spot or secure a bottle service reservation, we can make it happen. And if you have any questions along the way, our knowledgeable staff is always just a phone call away. So don't hesitate to give us a call at 702-344-0100 – we're here to help you make your Las Vegas pool party experience one to remember!
Photos of Wet Republic Ultra Pool
Videos of Wet Republic Ultra Pool