Location: Grand Canal Shoppes at The Venetian Resort Las Vegas
Nights: Thursday, Friday, Saturday, and Sunday
Music: EDM, Hip-hop, and Top 40.
Size: 47,000 sq-ft
The Definitive Guide to TAO Beach Dayclub (2023)
If you want to experience a phenomenal venue in Vegas, then we encourage you to check out Tao Beach Dayclub, which is one of the top daytime party venues in the entire city.
Recently renovated, the club is now double the size of its previous incarnation and features an upgraded sound and lighting system. The redesign has enhanced Tao Beach's Balinese-inspired architecture and overall atmosphere and has added a lot to its original offerings.
Here you will find numerous comfy daybeds, shaded private cabanas, excellent food and drink, and, of course, lots of good-looking men and women. But that's not all.
We haven't even mentioned the 5-star music selection yet. Some of the artists that have performed here include Fisher, TYGA, Armin van Buuren (Dutch DJ), Flo Rida, Sofi Tukker, Illenium, and Loud Luxury.
TAO Beach Dayclub Vegas Location
The club's address is 3355 Las Vegas Blvd S, Las Vegas, NV 89109. It is located at the Grand Canal Shoppes at The Venetian Resort Las Vegas.
Getting To TAO Beach Dayclub
You can find Tao Beach near The Venetian Resort's pools. To locate the pools, it's best to ask the hotel staff at the front desk for directions. With that said, the elevator that takes you to the pools is somewhat close to the self parking garage. If you're familiar with the resort, this is a good reference point.
LOCATION: WHERE IS TAO BEACH DAYCLUB LOCATED AND HOW CAN YOU GET THERE?
This world-renowned venue is located on the iconic Strip at the Venetian Hotel and is one of the most popular destinations in town for those looking to party in style.
Getting to TAO Beach is easy – just take a short walk from the Venetian's main entrance or hop on the complimentary shuttle.
Once you arrive at the venue, you'll enjoy an amazing lineup of DJs, stunning poolside views, and plenty of delicious drinks and snacks.
If you're looking to beat the heat in Vegas this summer, make sure to check out TAO Beach!
Valet Parking At Tao Beach
The valet parking service at our dayclub provides guests with an easy and convenient way to park their cars. The service is available every day of the week, from 10am to 2am.
Guests simply pull up to the club, and the valet attendants will take care of the rest.
Limo And Party Bus Rides To Tao Beach
Are you looking to have a good time and want to be surrounded by luxury? If so, you need to look no further than hiring a limo to take you to your favorite dayclub.
TAO Beach Dayclub is the perfect place to spend a summer day or evening, and with a limo, you can make sure that your experience is first-class all the way.
Maybe you prefer a party bus? If so, just call or text us, and we'll take care of everything for you. We offer comfortable rides that ensure you have a great time.
Book with us today at 702-344-0100.
Online Tour of TAO Beach Dayclub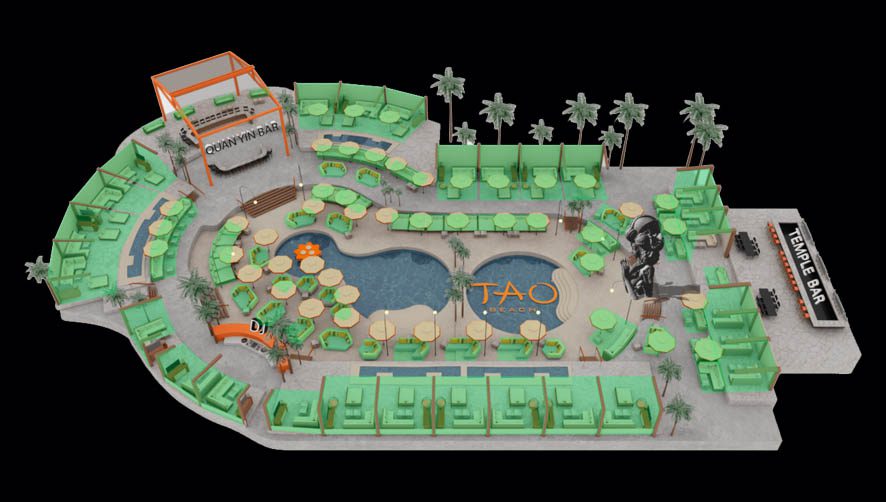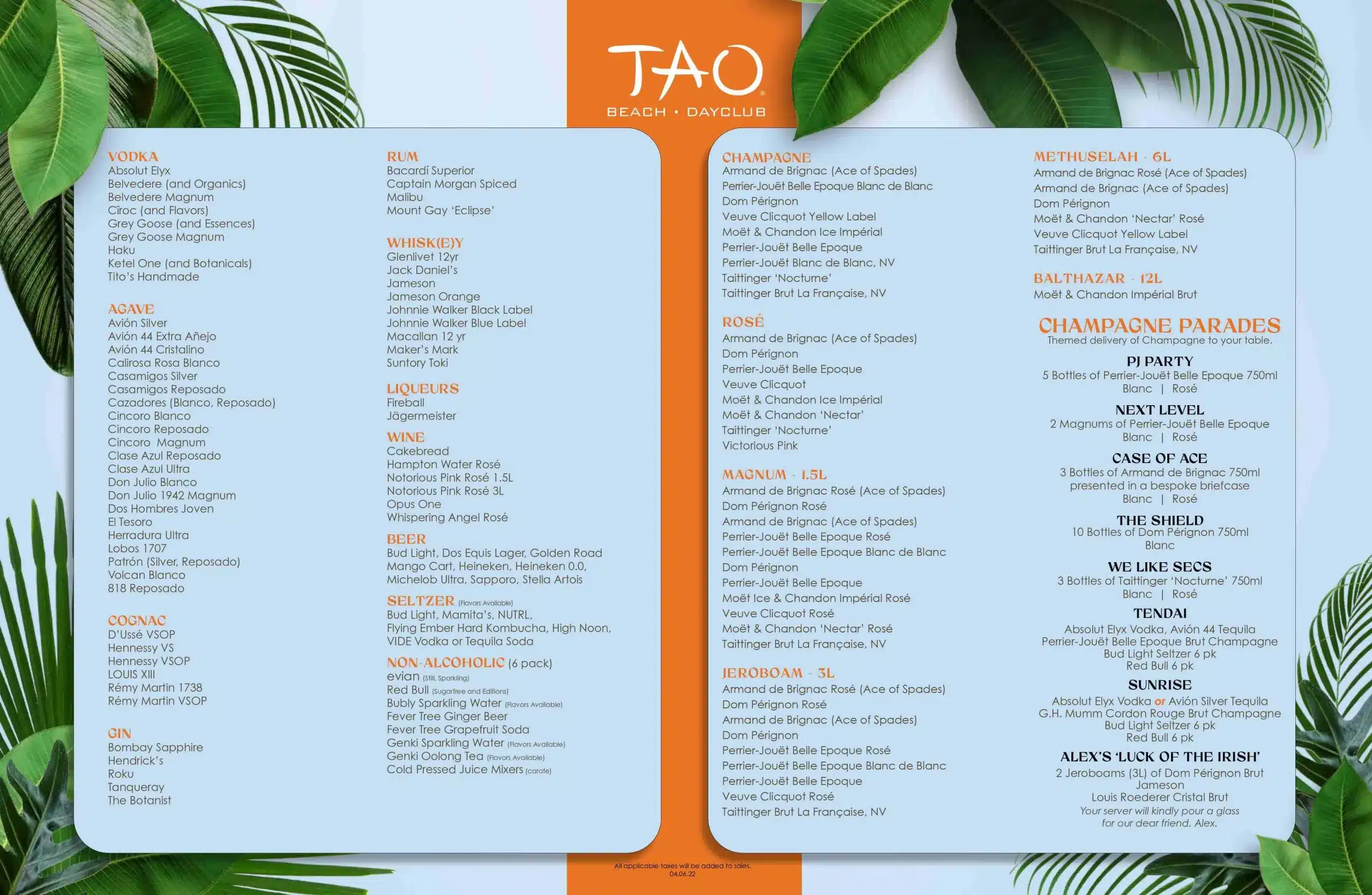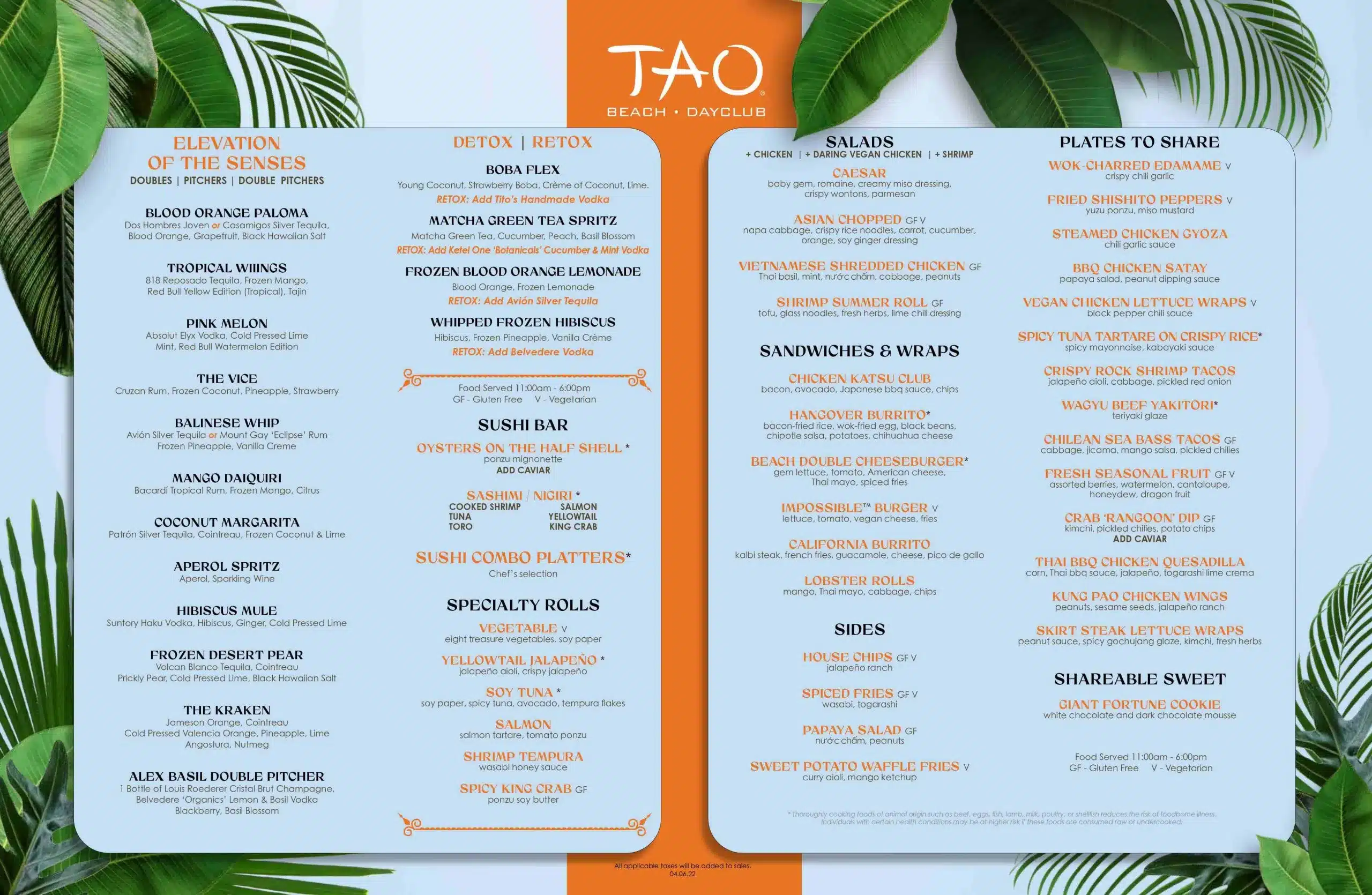 TAO Beach Dayclub's Hours of Operation
This venue is open Thursday, Friday, Saturday, and Sunday from 10AM to 6PM.
TAO Beach Dayclub Dress Code
The dress code is tasteful pool attire. You'll want to avoid wearing robes, tank tops, sportswear (including baseball caps), basketball shorts, and clothing with offensive or obscene print.
The Type of Music At Tao Beach
EDM, Hip-hop, and Top 40.
What Does It Cost To Get Into TAO Beach Dayclub?
The cover charge for men hovers around $40, while women can expect to pay around $20.
Call or text us at 702-344-0100 for more information. We'll go into detail about what you can expect to pay on a given day (prices change per event) and also provide you with information regarding Table Service and getting a ride to and from the venue.
AMENITIES: WHAT CAN YOU EXPECT AT TAO BEACH DAYCLUB?
When you visit TAO Beach Dayclub, you can expect a wide variety of amenities. The club offers comfortable lounge chairs, shaded areas, and plenty of space to relax and sunbathe.
You can also enjoy a refreshing drink from the bar or take a dip in the pool. Plus, there are always plenty of pool toys and floats to keep you entertained.
If you need to take a break from the sun, there are shaded areas to relax and socialize as well as an air-conditioned interior.
To cool down while still enjoying the sun, there are several poolside showers you can use.
Need something else? Ask the staff. TAO Beach Dayclub works hard to keep you covered.
FOOD AND DRINK: WHAT WILL YOU BE ABLE TO EAT AT TAO BEACH DAYCLUB?
The club is constantly being revamped to provide guests with an unforgettable experience. However, one question on everyone's mind is what will be served food-wise?
Guests can expect a variety of delicious options that will satisfy any craving. From sushi and salads to burgers and pizza, there is something for everyone. Plus, there will be a range of refreshing cocktails and beverages available as well.
FOOD AND DRINK: WHAT WILL YOU BE ABLE TO DRINK AT TAO BEACH DAYCLUB?
The sun is almost always shining and the weather is perfect for a day at TAO Beach Dayclub in Las Vegas. So, you're probably wondering what you can drink while you're at this sun-loving venue.
Some drinks you can enjoy at TAO Beach include cocktails, beer, wine, spirits, and soda.
For cocktails, the Ciroc Peach Vodka Lemonade is a great choice. This refreshing drink is made with Ciroc Peach Vodka, lemonade and Sprite, and it's sure to quench your thirst on a hot day.
If vodka isn't your thing, why not try a Margarita?
Work With A Friendly, Dedicated Las Vegas Event Promoter
If you need help getting into TAO Beach Dayclub or need help with anything else, call or text us at 702-344-0100. We'd love to hear from you!
Photos of TAO Beach Dayclub
Videos of TAO Beach Dayclub