Location: 3025 S Sammy Davis Jr Dr, Las Vegas, NV 89109
Days of the Week: Friday, Saturday, Sunday
Music: Open Format
Sq Ft: 71,000
Sapphire Pool Party: Your Ultimate Guide to Sun, Fun, and Entertainment
Sapphire Pool Party (SPP) is the ultimate weekend escape in the world – over 70,000 square feet of sun-soaked fun (from 12pm-6pm, Friday to Sunday), premium cocktails, and unique events featuring the dazzling Sapphire Gems.
Originally founded in 2002 with the legendary Sapphire Gentlemen's Club, Sapphire has now amplified the weekend experience with its iconic Pool Party. The ambience at the pool is premium lounge meets tropical paradise: the latest summer beats, luxurious cabanas, and a dedicated and professional staff providing top-tier services.
SPP is the hottest pool party scene in Las Vegas, consistently elevating the industry with unmatched service, unique special events, and the first topless pool party experience in Las Vegas.
Sapphire Las Vegas Highlights
Sapphire Pool Las Vegas Hours of Operation
Fri-Sat-Sun: 12pm – 6pm
Sapphire Pool Las Vegas Location
This venue is located at 3025 S Sammy Davis Jr Dr, Las Vegas, NV 89109
Getting To Sapphire Pool Las Vegas
Need a ride? Call or text us at 702-291-8080. We'll schedule a pick-up at your hotel.
Guests must be 21 and over to join the fun. Enjoy a FREE limousine service for groups from all hotels on the Las Vegas Strip, ensuring you arrive in style and get VIP access.
But if you decide to arrive on your own, head straight to the main entrance and follow the path to unparalleled fun. On special occasions, expect a short wait, but we promise, it's worth every second.
Online Tour of Sapphire Gentlemen's Club
Sapphire Pool Party Gallery
Sapphire Pool Las Vegas Table Pricing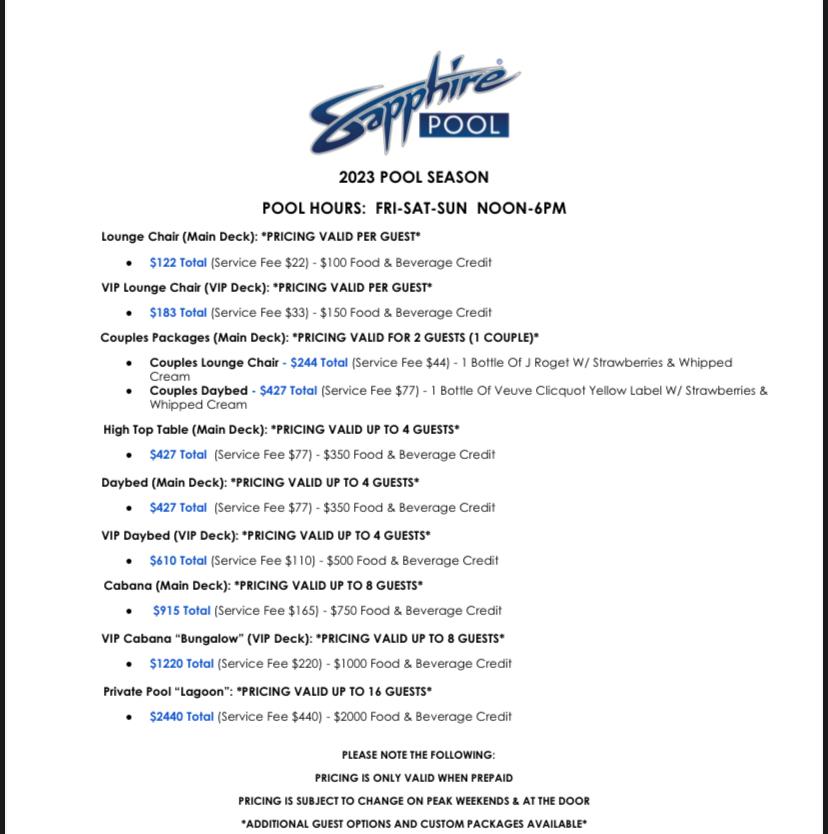 Why do guests choose Sapphire Pool Party again and again?
Besides the exhilarating environment, SPP attracts the most gorgeous, fun, and lively entertainers from all over America and even the world! With so many dazzling personalities at the pool, there's no reason to be anywhere else but at the world-famous SPP in Las Vegas.
Recent accolades showered on Sapphire include the title of "Best Day Club" by Las Vegas Review magazine for the 3rd consecutive year. Such recognition underscores the unmatched experience offered at the Sapphire Pool Party.
Work With An Experienced Las Vegas Event Promoter
If you need help getting into Sapphire Las Vegas or making a bottle service reservation, or if you have any questions, call us at 702-291-8080. That's what we're here for!
Videos Of Sapphire Pool & Dayclub