Location: ARIA Resort & Casino
Days: Wednesday, Thursday, Friday, Saturday, Sunday
Music: EDM, Top 40, Hip-hop
Size: 16,000 sq-ft
The Definitive Guide to Liquid Pool Lounge (2023)
Liquid Pool Lounge is the perfect adult oasis in the heart of the Las Vegas Strip. With eight secluded cabanas, a 1,200 square foot main pool, and 16,000 square foot dayclub, Liquid is the perfect place to soak up the sun and enjoy refreshing cocktails poolside.
Liquid also features luxurious dipping pools, an expert mixology program, and DJ-powered pool parties all season long.
In addition, Liquid Pool Lounge is the perfect place to unwind and let loose on a Wednesday afternoon. The Wednesday Dip is Liquid's signature local's party, and every week locals and industry professionals can enjoy complimentary admission as well as a champagne open bar for all ladies.
It is also the perfect venue for your next big event! Whether you're celebrating a bachelor's or bachelorette party, a birthday, or just looking for a unique and fun environment for your group, Liquid has you covered. Their Ultra VIP packages offer exclusive access to the pool and lounge area, as well as bottle service and a dedicated server.
Whether you're looking for a relaxing daycation or a wild night out, Liquid Pool Lounge is the 21+ destination for you.
Liquid Pool Lounge Location
This venue is located at 3730 S Las Vegas Blvd, Las Vegas, NV 89158. It's inside the luxurious ARIA Resort & Casino.
Getting To Liquid Pool Lounge
To get there from the self-parking entrance, first, enter the Casino Floor and follow the left-hand walkway toward the Poker Room. Then, take the escalators next to Optica up to the second level. Once you're there, follow the right-hand walkway down the corridor until you reach Terrene. From there, turn left and enter The Pool area outside. Follow the walkway towards the right and Liquid Pool Lounge will be on your right-hand side.
Online Tour of Liquid Pool Lounge
Liquid Pool Lounge Layout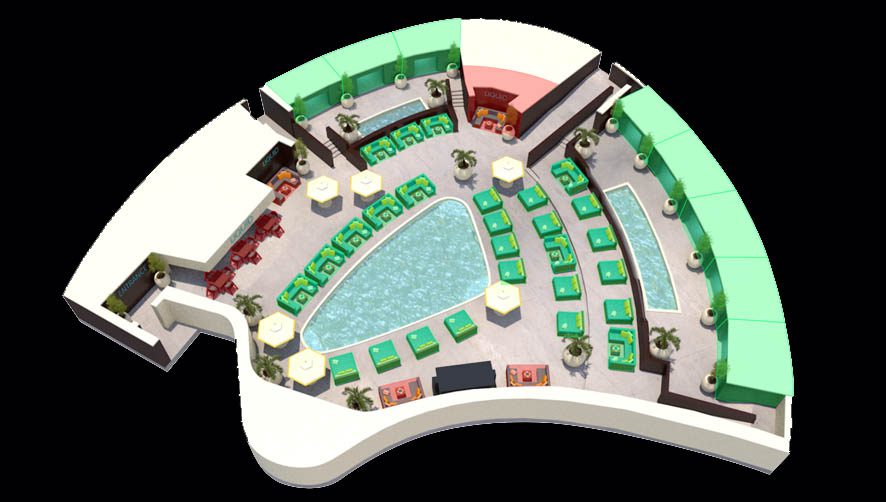 Liquid Pool Lounge's Hours of Operation
This venue is open from Wednesdays to Sundays from 11 am until 5 pm.
Liquid Pool Lounge Dress Code
The management strictly enforces a "swimwear attire" dress code, so please make sure to leave your athletic apparel at home.
The Type of Music
Liquid Pool Lounge is the perfect place to let loose and enjoy a wide range of musical styles. Whether you're in the mood for Top40, EDM, or Hip Hop, you'll always find something to suit your taste.
What Does It Cost To Get Into Liquid Pool Lounge?
Liquid Pool Lounge is the perfect place to spend a day in the sun with friends. Prices start at $750 for a deck table, $1000 for a poolside couch, and $1500 for a cabana. Tickets cost around $20 for women and $30 for men.
Work With An Experienced Las Vegas Event Promoter
Liquid Pool Lounge is one of the hottest tickets in Las Vegas, and for good reason. This chic poolside oasis is the perfect place to enjoy a sunny day or relax under the stars. With its luxurious cabanas and private bungalows, Liquid Pool Lounge offers a VIP experience that is second to none.
If you want to make sure your next trip to Las Vegas is one to remember, then you need to work with an experienced event promoter like us. We can help you get into Liquid Pool Lounge and make all the necessary reservations.
We can also answer any questions you have about the venue or the booking process. So don't hesitate to call us at 702-344-0100. We're here to help you make your next event a success!
Photos of Liquid Pool Lounge
Videos of Liquid Pool Lounge