Lavo Brunch Las Vegas Party
Location: The Palazzo at The Venetian
Nights: Saturday (October to March)
Music: Top 40, Hip Hop, EDM, and Open Format
Size: 20,000 sq-ft
Lavo Brunch Las Vegas Location
Lavo Party Brunch is located at 3327 Las Vegas Blvd S, Las Vegas, NV 89109. Floor 1 of the Venetian Resort Las Vegas – Grand Canal Shoppes.
Getting To Lavo Brunch
To get to The Palazzo at The Venetian Resort, you'll want to turn on Sands Ave, where you'll find the Palazzo Parking Garage, also known as the Palazzo Parking Deck.
From there, you'll want to head west through the resort to LAVO Italian Restaurant.
Alternatively
If you're coming from Las Vegas Blvd, you might be able to find space in Excalibur Parking Lot.
Likewise, if you're getting a taxi, Uber, or Lyft from a hotel on Las Vegas Blvd, there is a pull-in north of Excalibur Parking Lot where you can be dropped off. From there, you'll want to head north past the Venetian Wedding Chapel to LAVO Italian Restaurant.
The Definitive Guide To Lavo Party Brunch (2023)
Lavo Party Brunch is an epic dayclub party event that happens from 12:00 pm to 6:00 pm every Saturday. The active season for the venue runs from October to March.
Lavo Party Brunch is a high-energy event with cold drinks, excellent food, world-class beats from the top Las Vegas DJs, dancing on tables, themed parties, and a great crowd with plenty of people to meet and socialize with!
Virtual Tour of Lavo Party Brunch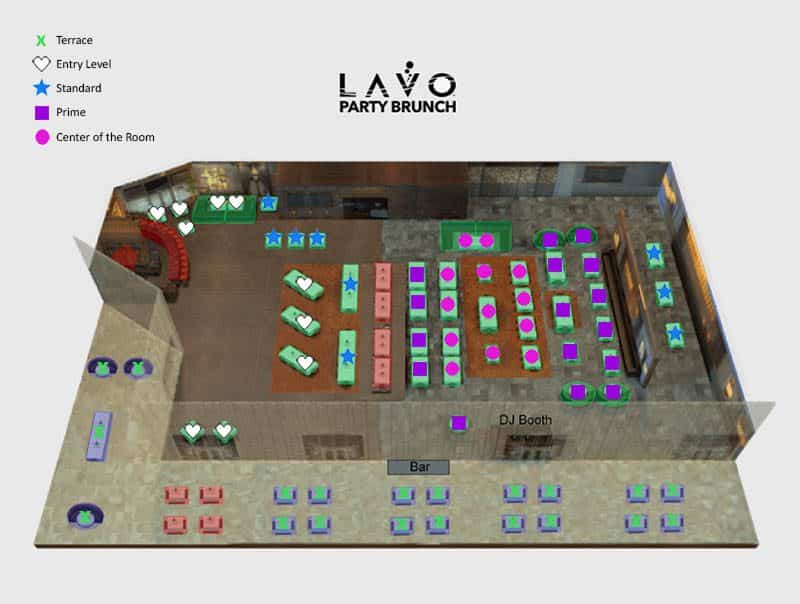 Lavo Brunch Hours of Operation
This venue is open on Saturdays from 12:00 pm to 6:00 pm.
Lavo Brunch Dress Code
The dress code at Lavo Party Brunch is casual. In fact, this is one of the more lenient venues in Las Vegas when it comes to its dress code.
Women
Women can wear a wide variety of outfits so long as they're tasteful and not overly revealing, i.e., they don't show partial nudity. Footwear for women varies. Just wear something you can dance in!
Men
Men can wear t-shirts (or business casual dress shirts) and jeans. Footwear for men allows for business casual shoes and sneakers.
Themed Events
Please note that the dress code at Lavo Brunch varies, depending on the event. The venue frequently has themed events in which you can wear costumes.
No Offensive Prints
You'll also, of course, want to avoid wearing anything with obscene or offensive print on it.
Call
For more information about what to wear or not wear, call or text us at 702-344-0100.
The Type of Music At Lavo Party Brunch
Hip-hop, Top 40, EDM, and Open Format.
What Does It Cost To Get Into Lavo Party Brunch?
The price for admission at Lavo Party Brunch ranges from $30 to $80.
Want to learn more about Table Service pricing at Lavo Party Brunch? Reach out at 702-344-0100. Or you can scroll up to the Table Service tab above to find it.
Experience Lavo Party Brunch With Help of A Las Vegas Event Promoter
As a Las Vegas event promoter with years of experience, we work with many of THE top venues in the city. To get the most out of your party experience, reach out today.
Photos of Lavo Party Brunch
Videos of Lavo Brunch Las Vegas