Location: Encore Hotel
Nights: Friday, Saturday, and Sunday
Music: EDM, Hip-hop, Top 40
Size: 55,000 sq-ft
The Definitive Guide to Encore Beach Club (2023)
Encore Beach Club is one of the most popular dayclub destinations in Las Vegas, thanks to its three sparkling pools, exotic long-style bar, fancy VIP cabanas, stylish VIP tables, fun gaming area, floating blackjack tables, and so much more.
The vibe here is amazing, as are the drinks, the food, and the staff.
Encore Beach Club is separated into two sections, outdoor and indoor. The layout makes it great for different types of people, whether they want to relax and socialize at one of the indoor VIP booths or party out in the sun.
The majority of the club is located outside and is around 55,000 square feet. The indoor part of the club is only about 5,000 square feet, so it's much smaller. The indoor area, though, is top-notch and worth checking out. Inside, you'll find a compact DJ booth, cozy VIP tables, and the venue's epic long-style bar, above which hangs a giant golden serpent.
If you'd like to learn more about this stellar venue, take a look at our Online Tour, Guest List, and Table Service pages. Also check out our Encore Beach Club Calendar. There is always something interesting happening!
Encore Beach Club Vegas Location
The address is 3131 S Las Vegas Blvd, Las Vegas, NV 89109. It's located on the Strip Side of the Wynn Encore Resort.
Getting To Encore Beach Club
To get to Encore Beach Club, you'll have to pass through the casino. If you're unfamiliar with the resort and don't know where the casino is located, it's fortunately pretty easy to find. You can ask one of the hotel staff at the entrance where it is or just follow the signs from the front of the hotel. If you are coming from the Wynn parking garage, then you'll have to cross a bridge to get to the venue.
360 View of Encore Beach Club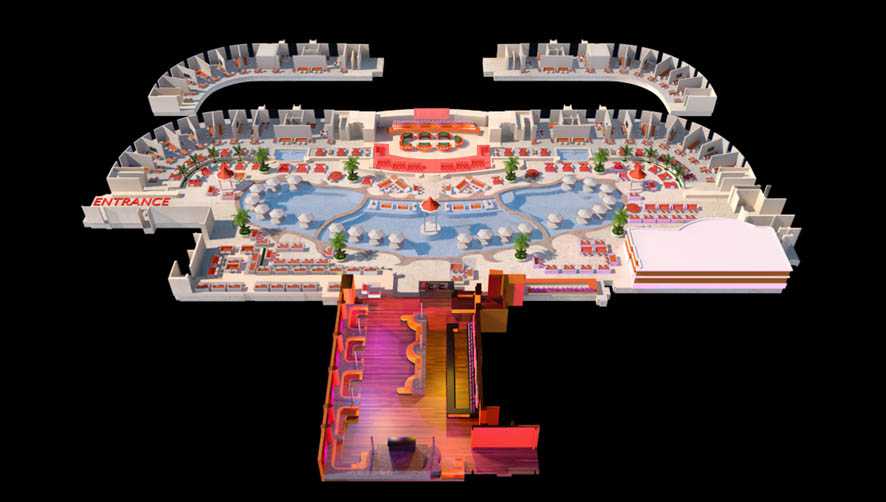 Encore Beach Club's Hours of Operation
This venue is open Friday, Saturday, and Sunday from 11:00am until 6:00pm.
Encore Beach Club Dress Code
The dress code is appropriate swim attire. If you are coming just to relax but don't plan on swimming, business casual attire is preferred. Please avoid wearing obscene or offensive clothing, speedos, see-through bathing suits, baggy clothing, or torn clothing.
The Type of Music At EBC
EDM, hip hop, and Top 40.
What Does It Cost To Get Into Encore Beach Club?
The cover charge is usually $25 to $80 for women and $55 to $130 for men. Expedited entry can run as high as $250. If you'd like more info about VIP Bottle Service pricing, call or text us at 702-344-0100. You can also reach out to us through our Table Service page by clicking on the Table Service tab above.
Contact A Friendly Las Vegas Event Promoter
If you have any questions whatsoever about getting into Encore Beach Club, or if you need help making a bottle service reservation, call or text us anytime at 702-344-0100.
Photos of Encore Beach Club
Videos of Encore Beach Club