Location: Virgin Hotels Las Vegas, Curio Collection by Hilton
Nights: Friday, Saturday, and Sunday
Music: EDM, Deep House, and Tropical House.
Size: 60,000 sq-ft
The Definitive Guide to Elia Beach Club (2023)
Élia Beach Club, which was started in June 2021, is a 5-star venue that we absolutely adore. The club boasts a large, sand-bottomed pool, 21 luxury cabanas (seriously they f'n rock), 57 super comfortable daybeds, a cutting-edge sound and entertainment system, and attractive people galore.
Beauty, visual appeal, and an enjoyable, laidback atmosphere are what you'll find at this excellent sun-soaked venue.
No wonder Élia draws such well-known talent, such as Snoop Dogg, Maria Romano, Yellow Claw, Troyboi, and DJ Scene.
Elia Beach Club Vegas Location
The club's address is 4455 Paradise Rd, Las Vegas, NV 89169. It's located inside the Virgin Hotel.
Getting To Elia Beach Club
To get to the club, you'll have to go to the Virgin Hotel's main entrance. From there, just hook a left and follow the signs past Night + Market. For anyone using the Harmon Parking Garage, you'll want to head into the Virgin Hotel first and then turn left.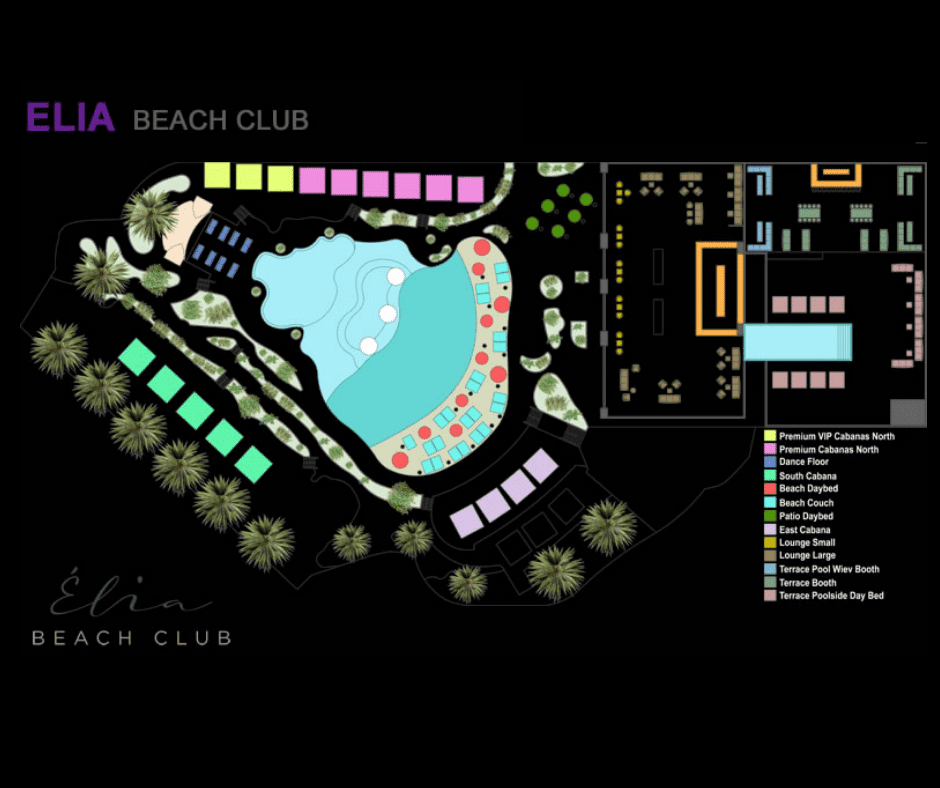 Elia Beach Club's Hours of Operation
This venue is open Friday, Saturday, and Sunday from 11AM to 6PM.
Elia Beach Club Dress Code
The dress code is stylish swimwear.
Please avoid wearing jeans or sportswear, clothing with sharp objects attached, and clothing with offensive or obscene print.
Please also avoid wearing socks with sandals.
The Type of Music at Elia
EDM, Deep House, and Tropical House.
What Does It Cost To Get Into Elia Beach Club?
The cover charge starts at around $40 for men and women.
Want more information about what you can expect to pay for your cover charge on any given day (prices change per event). Or would you like to learn more about the price of bottle service? Call or text us at 702-344-0100.
Plan Your Dayclub Event With A Friendly Las Vegas Event Promoter
If you're ready to party at Elia Beach Club, call or text us at 702-344-0100. We'll hook you up!
Photos of Elia Beach Club