Location: Mandalay Bay
Opens: Friday, Saturday, Sunday
Music: Pop, Top 40, Hip-hop
Size: 50,000 sq-ft
The Definitive Guide to DAYLIGHT Beach Club (2023)
Daylight Beach Club is the ultimate summertime hotspot, located at The Mandalay Bay Resort and Casino. This 50,000 square foot oasis boasts a 4,400 square-foot main pool, complete with a stage for live entertainment.
The club also features numerous cabanas and daybeds, a full-service bar, and a state-of-the-art sound system.
In addition, Daylight Beach Club features a full-service bar and restaurant, serving up delicious food and drinks all day long.
The club features world-class DJs and live performers playing open format styles of music, depending on the night and performer. This includes everything from Top 40, Hip Hop, dance music, Pop, and even some Rock and other styles. The music at DAYLIGHT truly reflects the best and most fun programming of what Las Vegas has to offer.
Whether you're looking to soak up some sun or dance the night away, Daylight Beach Club is the perfect place to be.
DAYLIGHT Beach Club Location
This venue is located at 3950 S Las Vegas Blvd, Las Vegas, NV 89119. It's inside the luxurious Mandalay Bay.
Getting To DAYLIGHT Beach Club
Just follow these simple directions and you'll be there in no time.
Start by walking past the guest elevators to the casino floor. Then, follow the pathway along the left-hand side. Go straight and walk towards the Mandalay Bay Convention area. Walk past Border Grill, and Shark Reef Aquarium. Then, find the exit doors to the left. Finally, walk straight ahead to Daylight Beach Club.
Online Tour of DAYLIGHT Beach Club
DAYLIGHT Beach Club Layout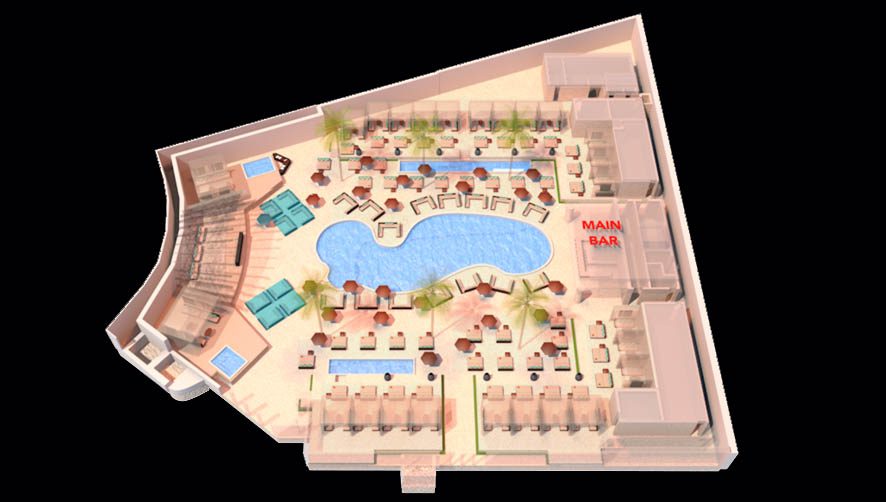 DAYLIGHT Beach Club's Hours of Operation
This venue is open Friday, Saturday, and Sunday from 11:00 am until 6 pm.
DAYLIGHT Beach Club Dress Code
To ensure that all our guests can enjoy the facilities safely and comfortably, DAYLIGHT has a dress code in place.
All guests must be in swimwear. We do not permit sports attire, athletic wear, torn or cut-off clothing, jean pants or shorts, offensive prints, see-through clothing, chains, baggy clothing, or hard-soled shoes or boots.
The Type of Music
Daylight Beach Club is the perfect place to enjoy the best that Las Vegas has to offer. Featuring world-class DJs and live performers playing open format styles of music, Daylight offers something for everyone.
Whether you're looking to dance to Top 40 hits or Hip Hop, or just relax and enjoy the vibes, Daylight has you covered. And with a gorgeous view of the Las Vegas Strip, Daylight is the perfect place to soak up the sun and enjoy the best that Las Vegas has to offer.
What Does It Cost To Get Into DAYLIGHT Beach Club?
Cover charges at DAYLIGHT Beach Club start at $20 for women and $30 for men, and that's just to get through the door. Daybeds start at $500, and bungalows can cost as much as $3,000.
Work With An Experienced Las Vegas Event Promoter
Daylight Beach Club is one of the hottest clubs in Las Vegas, and for good reason. With world-class DJs, a gorgeous pool, and stunning views of the Strip, it's no wonder that Daylight is always packed with party-goers.
However, getting into Daylight can be a challenge, especially if you're not familiar with the club scene in Vegas. That's where we come in. As experienced event promoters, we know all the ins and outs of Daylight, and we can help you make a bottle service reservation or get onto the guest list.
We also offer VIP packages that include everything from transportation to line skipping. So whether you're looking to party at Daylight or any other club in Vegas, give us a call and let us help you have a night to remember.
Photos of DAYLIGHT Beach Club
Videos of DAYLIGHT Beach Club