Location: Resorts World Las Vegas
Nights: Friday, Saturday, and Sunday
Music: Primarily EDM and Deep House
Size: 41,000 sq-ft
The Definitive Guide to Ayu Dayclub (2023)
Opened July 1, 2021, Ayu Dayclub is a great daytime venue that we definitely recommend checking out.
Come experience 5-star customer service, sparkling pools, comfy couches, VIP cabanas, private bungalows, delicious food, fresh drinks, and an excellent slot of top musical talent.
Performers at Ayu include but are certainly not limited to Tiësto, Zedd, DJ Snake, Nervo, Cash Cash, and Becky G.
Ayu Dayclub partners with three other venues—Zouk Nightclub, RedTail, and FUHU Restaurant & Bar, all of which have been brought to Resorts World Las Vegas by the well-known Zouk Group.
Ayu Dayclub Vegas Location
The club's address is 3000 S Las Vegas Blvd, Las Vegas, NV 89109. It is located at Resorts World Las Vegas.
Getting To Ayu Dayclub
Ayu Dayclub is at the opposite end of the resort from the Resorts World Guest Parking. So, to get to the club, you can either park in the self-park garage and take the long walk south (this can take 15 to 20 minutes), or you can find a place to park across Las Vegas Blvd S and cross the street to the venue that way.
Another option is to coordinate with us to get a party bus, cab, or limo, which will take you to a more convenient drop off area.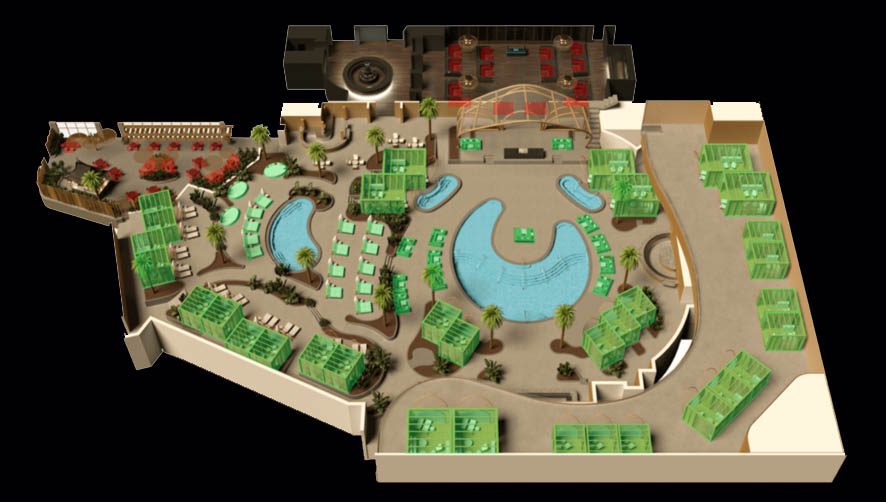 Ayu Dayclub's Hours of Operation
Friday 12PM to 6PM, Saturday 11AM to 6PM, and Sunday 12PM to 6PM.
Ayu Dayclub Dress Code
The dress code is upscale casual swim attire.
Please avoid wearing everyday street clothes, sportswear, and athletic clothing.
The Type of Music At Ayu Dayclub
EDM and Deep House.
What Does It Cost To Get Into Ayu Dayclub?
The cover charge for women runs between $30 and $85, while men can expect to pay $50 to $100.
If you want to know more about the price of Table Service or how much it costs to get bussed to and from the venue, call or text us at 702-344-0100.
5-star Las Vegas Event Promoter
Our passion is to help you have an amazing time in Vegas, whether you are doing a day or night event. Contact us today with your ideas, questions, or concerns. Whatever you need, we'll be happy to coordinate with you and point you in the right direction based on our years of experience partnering with the top venues in the city!